When it comes to Hermès, there are a bunch of different leather types you're going to be choosing from. The wide array of leathers by Hermès is to suit multitude lifestyles and personalities. So for this article, I picked out two of their leathers that is Swift and Togo leather and I'm going to help you differentiate between them.
So, what is the difference between Swift and Togo leather? The primary difference between Togo leather and the Swift Leather by Hermès is Swift Leather is slouchier, takes color very well, and is generally a bit more expensive than Togo leather.
These two types of leather are totally different from each other, so in the remaining part of this post, I will double down on the differences to further help you differentiate between Togo leather & Swift Leather and also highlight some of the common similarities they share so you don't get them mixed up. Keep reading to find out more.
What is Swift Leather?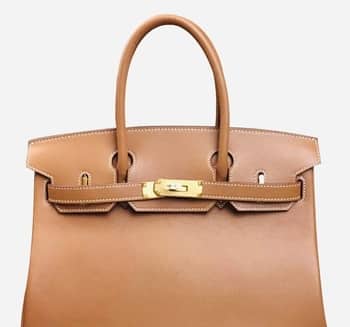 Swift leather is a soft, semi smooth, and matte leather from Hermès and while it's known to take color very well, it's not nearly as shiny and smooth as most of the other types of leather in Hermès's arsenal. One major advantage the Swift Leather has is it's unique texture.
The Hermès Swift Leather was originally called the Gulliver leather. Its production and use was discontinued by Hermès in 1999. In 2005, news broke of its return and it has remained till this day one of Hermès mainstay and a very popular leather with Hermès collectors.
It's return had such an impeccable timing as it came back when bright colored bags were increasingly becoming visibly popular on almost all runways in France, United States, and Italy.
What is Togo Leather?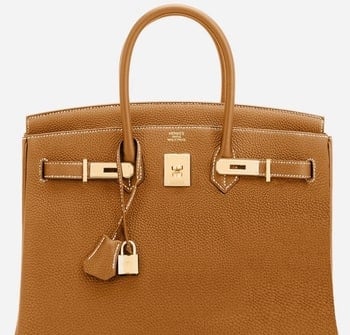 The Hermès Togo leather is one of the most popular and has a soft pebbled finish that creates an illusion of a raised grain which feels smooth when touched. The Hermès Togo Leather was released in 1997 and It's the perfect type of leather to go for in Birkin bags if you want a low maintenance leather bag.
The unique thing about Togo leather is that while it's characterized as being lightweight, it however, has an amazing capacity to hold shape and form in bags.
The surface textural quality of Togo leather is smooth but has a soft pebbled finish that creates the illusion of a raised grain pattern. To learn more about Togo Leather, you can check out the article below from one of my earlier publications.
Related: Togo vs Epsom Leather Plus How To Pick
Swift Leather vs Togo Leather
Price:
Hermès goods often have a lot of wheels turning especially when it comes to price. Hermès Leather goods enjoys an annual price increase often between 9% and 11% and on top of that, you're most likely going to pay premium price to particularly get the exact specs you want like color, style, and size.
All things being equal and should the so-called mythical price wheel be frozen for a moment, you will find that Swift leather is always about $400 to $600 more expensive than Togo leather.
Slouchiness:
While many Hermès enthusiasts will appreciate a soft slouch on their Hermès leather bags, others would want something that simply holds up.
The slouchiness of Hermès bags generally adds to the artistic quality and structure of the bag but the more floppy the leather, the more slouchy the bag will age.
This brings me to the next key difference between Swift Leather and Togo leather — which is when you take a closer look at the two, Swift Leather is slightly less structured than Togo. This is because Togo leather holds shape better than Swift Leather.
Weight:
The resulting weight of a bag when Swift leather and Togo leather are used is very tricky. But the fact remains that Swift Leather is actually slightly lighter than Togo leather.
Color:
Contrary to Togo Leather, the Hermès Swift leather has the ability to absorb dyes and at the same time reflect light more than a lot of the other types of leathers from Hermès. This is why Swift leathers appear much much brighter and richer colors than most other leathers.
So if you're into bold colors then the Swift leather is what you would want to go for. Don't get it mixed up because while in most cases, Swift Leather is commonly compared to Togo and Clemence Leather, Swift is, however, better suited for making bright colored bags.
The most amazing part of Swift Leather is that leather colors like Rose Azalea and Rose Sakura are exclusively offered only in Swift leather. There are a couple more color introductions of vividly beautiful "rested" colors such as Bamboo, Orange H, Blue, and Sapphire which you will not have with Togo leathers.
Often Used For:
Smaller leather goods such as the baby Birkins and Kellys, Constances, Kelly pochettes and Kelly cuts are all offered in Swift leather. Hermès has increased its use of the Swift leather because small colorful bags remain in high demand and Swift Leather is perfect for these types of products.
The Hermès Togo leather on the other hand, is often used for larger bags — the type you can easily travel with if you love to travel in style and fashion. This is because it's able to hold up shape and it's a bit more heavy when compared to Swift leather.
Surface Quality :
Togo leather gives off a visual texture of raised patterns but its actual texture, when touched, is very smooth; like an illusion of some kind.
On the contrary, Swift Leather is very soft and has an extremely fine-grainy surface, which makes it especially supple to touch.
Aging:
The Hermès Swift Leather, like all leathers, will scratch with time but this is something you wouldn't have to worry about because when Swift leather surfaces scratch it can be readily removed with a light gentle buff.
Hermès Togo Leather is prone to veining — which is a little vertical streak patterns that break up the grain. This is, however, an awesome characteristic of Togo leather that makes it difficult for people to imitate.
Differences Between Swift Leather and Togo Leather – Summary
Here's a summary of the all the differences between Swift leather and Togo Leather.
Swift Leather
Togo Leather
1.
Slouchiness
Swift Leather is a lot more slouchier than Togo
Togo leather is a less slouchy look
2.
Weight
Swift leather is lighter
Togo leather is heavier
3.
Surface Quality
Swift leather has a semi-smooth surface quality
Togo leather has a grainy and 
bumpy appearance but actual surface is fairly smooth
4.
Price
Swift Leather is more expensive
Togo leather is less expensive when compared to Swift Leather
5.
Touch
Swift leather has a nice soft touch
Togo leather has a rich leathery
feel when touched
6.
Grains
Swift Leather comes in a consistent soft, semi-smooth and matte grains
It comes in a wide variety of 
pebble-like surface grains 
7.
Best For
Best for small bags
Mostly found used for larger bags due to how well it holds shape
8.
Color
Swift comes in a wide variety of bright colors and have colors like Rose Azalea and Rose Sakura offered exclusively in Swift Leather
Minimal when compared to Swift Leather
9.
Aging
Prone to scratches but can easily be removed
Prone to veining
Similarities Between Swift Leather and Togo Leather
Both Swift leather and Togo leather are relatively slouchy
Hermès Togo leather and Swift leather are anti-scratch
Both has some kind of matte finish to them
Togo and Swift Leather generally come in a variety of colors
Hermès Swift Leather and Togo leather both have relatively smooth surfaces