Hermes has an excellent way of using leather to give the fashion world a wide range of unique products. The quality of leather and craftsmanship they use gives them the upper-hand when it comes to the quality leather bags, purses, etc it produces. Focusing on the former, there are many different leather types the Hermes brand uses in their production.
In this article, I am going to shed some light on two of their leather: Hermes Tadelakt and Swift. I will tell you about these two awesome leather materials from Hermes and show you some differences between them.
So, what is the difference between Hermes Tadelakt and Swift leather?
The main difference between Hermes Tadelakt and Swift leather is that Tadelakt is semi-shiny with no visible grain texture and as a result, its products are softer, smooth, and extremely gorgeous in appearance.
On the other hand, Hermes Swift leather is not as shiny and is relatively less shiny when compared to Tadelakt.  It has a fine grain texture with a semi-smooth appearance.
There are more differences between Hermes Tadelakt and Swift leather I found out during my research and for the rest of this article, I'm going to share all the key differences between both types of leather so you would want to read on! But first, a little about Hermes Tadelakt and Swift leather.
What is Hermes Tadelakt Leather?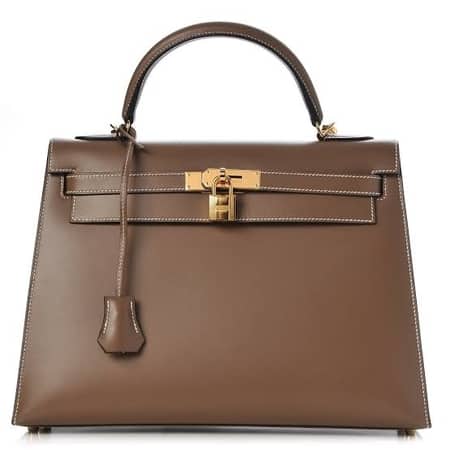 The Hermes Tadelakt leather was introduced into the Hermes family around 2006. Generally, it comes with a smooth glossy coloring quality with a delicate finish. This is because it's sourced from the male calf which has no visible grains on its exterior. 
Hermes Tadelakt leather is commonly confused with the shiny nature of Box Calf leather because they both have some similarities. Nevertheless, what I found out is that the Tadelakt leather would always be a lot shinier.
One simple feature of Tadelakt leather that usually surprises most connoisseurs and hobbyists alike is its extreme softness. We can say Tadelakt leather is a hybrid between Swift and Box Calf leather the only caveat is that the Tadelakt leather is more susceptible to scratches because of the nature of its dyes.
As one of the popular leathers in the Hermes family, Tadelakt leather is often used to produce small leather items although its downside is how it lacks the proven longevity of other leathers like Box Calf and how it forms blisters when it comes into contact with water.
When the Hermes Tadelakt leather is used for bags and other products, it generally gives the items a more formal and dressy look. Indeed, the Hermes Tadelekt leather will have the sheen that suits the desired appearance for weddings, dinner wears to mention a few. 
When compared to the Box Calf leather, The Tadelakt leather is softer but quite stiffer than the Hermes Swift leather. Still, on the same subject, the colors that Box Calf may come in will not exist in Hermes Tadelakt leather. 
The Tadelakt leather takes in color deeply and intensely. So it gives products made from Tadelakt a shiny vibrant look with a brilliant delicate finish appearance.
Apart from that, the silky finish Tadelakt leather products come with making it a high demand material because of how it gets more plush and rich overtime.
What is Hermes Swift Leather?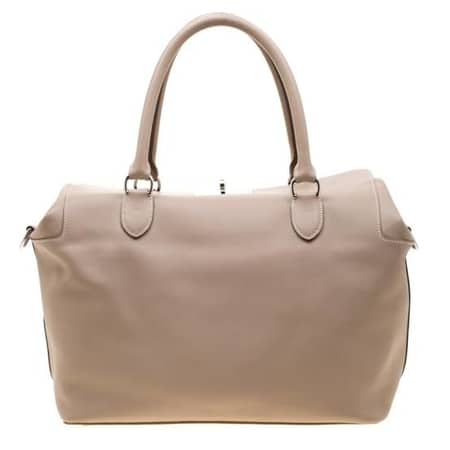 So far in this article, I have only drop little bits of hints about Swift leather. Let's get into it more deeply.
Hermes Swift leather was introduced into the Hermes family originally as Gulliver till it was taken off in 1999 and renamed to be introduced again into Hermes in 2006.
This type of Hermes leather is lightweight, smooth, and takes color and dye amazingly. Apart from the Hermes Swift leather being less stiff, lightweight, it's less shiny in nature and shares a lot more similarities with Box Calf leather than Tadelakt.
Swift Leather is soft, yet supple to touch because of its fine grain and semi-smooth nature. Hermes Swift leather items if not properly kept may become tacky, and very untidy and the smooth, fine, and soft grain texture its known for will be covered in scratches.
So you will have to give this leather the tender loving care it needs. The good news is the wear Swift leather takes on can be sorted in a couple of Hermes spa treatments (like buffing off or swiping scratches). or refurbishment procedures.
All in all, Swift leather gives its finished products a much richer, brighter, and sparkling appearance as compared to other leathers. This leather is luminous and easily radiates "life".
The best part is almost all of Hermes' classic colors such as Rose Sakura, Blue Sapphire, Orange H, and many others offered in Swift leathers. Swift leather is also used in the production of Hermes small leather goods like baby Kellys, Birkins, Constances to mention but a few.
Hermes Tadelakt Vs Swift: Which Is Better?
Feel
With no visible grains on the grain side of Hermes Tadelakt leather, it gives this type of leather an utterly sensational and soft to touch feel. The leather gives smaller bags, purses, and even bracelets that silky smooth feel it needs for you to hold and also put on.
On the same level of feel, the Swift leather when used has a semi-smooth to touch feel due to its visible fine grain texture. This also makes Swift leather to lack the silkiness of a Tadelakt leather.
Weight
Simply put, Swift leather comes with an exceptional lightweight to it when compared to Tadelakt leather, and because of this, you will often find that a lot of Hermes large bags will also come in Swift leather due to how easy they are on the hand.
Color
Although Swift leather has a muted sheen, it has a superior ability when it comes to dye absorption. When you observe the surface of products made from Swift leather they tend to reflect light amazingly as opposed to Tadelakt.
This makes or gives the colors of items made from Swift leather vibrant, bright, and a more sparkling appearance.
So the verdict when it comes to color is: Swift leather has a superior finish when it comes to bright colors, while Tadelakt leather is the absolute champion when it comes to dark and more shiny surfaces.
Durability
The extreme soft nature of the Tadelakt leather and transparent dye nature makes it more vulnerable to scratches which can be a pain to remove. So you will generally want to baby your Tadelakt leather a little bit more whenever you use it. 
Swift leather on the other hand would usually suffer minor scratches that can be easily removed when it's given a light swipe with the fingers or a gentle buff. So because of this, you would want to get your smaller bags in Tadelakt leather for your formal once in a while occasions.
Although the Tadelakt leather may not have the toughness to withstand the abuse of an everyday leather item, on those once in a while occasions, you're going to blossom with the sheen of the Tadelakt leather. 
Also, you will generally not be able to expose Tadelakt leather to water as this will cause it to blister. So don't get caught up in the rain when you're with your Tadelakt!
Swift leather proves to be a lot more durable than Tadelakt leather. It's can be used on a daily basis and when it comes into contact with water, you will be able to give it a quick wipe down without any issues.
Holding Ability
Tadelakt leather is soft and amazingly supple but still maintains a unique stiff nature that gives it a more structured composition. But with such stiffness comes the fact that Tadelakt leather items like bags will lack the volume and capacity to contain many loads.
This is why Swift leather is the preferred choice when it comes to bigger bags like traveling bags. The slouchy nature of Swift leather gives it the upper-hand in terms of its ability to stretch to contain or hold more items.
This makes it a lot easier for travelers with Swift leather bags to pack a lot more items for their work trips and vacations. 
Similarities Between Tadelakt vs Swift Leather
● Both generally have a smooth soft feel or texture
● Both the Tadelakt and Swift leather are all generally susceptible to scratches
Tadelakt and swift leather generally age pretty well but will require a bit of tender loving care from time to time
● Both are sourced from the meat industry
● They all have lustrous finishes
● Both types of leather take color well
Swift and tadelakt are both big on bright colors
Both the Tadelakt and Swift Leather are not resistant to scratches
Tadelakt leather and Swift leather both have a relatively matte look
Differences Between Hermes Tadelakt And Swift Leather – Summary
Let's take a look at the overall summary of the differences between Hermes Tadelakt leather and Swift leather.
Tadelakt Leather
Swift Leather
1.
Tadelakt leather is stiffer
Swift leather is not as stiff when compared to Tadelakt Leather
2.
Tadelakt leather is very porous and does fair well wet
Swift leather resist water pretty well
3.
Tadelakt leather has no visible grain on the surface
Swift leather has fine grains on its surface
4.
Tadelakt leather has a more shiny natureSwift leather is less shiny5.
Tadelakt leather is extremely soft
Swift leather is less soft
6.
Tadelakt leather is not luminous
Swift leather has a sensational luminous quality
7.
Minor scratches in Tadelakt leather cannot be easily removed or buffed off
Minor scratches on Swift leather can be easily rubbed off or removed
8.
Tadelakt leather has a less dye absorbent quality
Swift leather has a more superior dye absorbent quality
9.
Tadelakt leather products are more structured and stiffer
Swift leather products are slouchier
Conclusion And How To Finally Pick!
All in all, I will say that after my thorough research into Tadelakt vs Swift leather, both of these Hermes leather options will give you the lustrous and striking presentation that you will always want your premium leather goods to have.
However, if you have to choose between a Tadelakt leather and a Swift leather, then you would want to go for Swift leather for items that see everyday wear. This is going to be your best bet as it's very handy, water-resistant, and scratches from day-to-day use can be easily controlled or even removed.
Also, the slouchy nature of Swift leather makes it a better choice of leather if you like to stuff your bag with a lot of essentials for daily use or travels. This is because it can easily stretch to contain a lot more items.
Otherwise, the Tadelakt leather will be perfect for you if you want a leather alternative that you can use on those special or formal occasions to make a plush and lush statement.
Tadelakt leather is extremely soft, utterly sensational to touch, and comes with a shiny finish. This makes it a good luxury material for those once in a while occasions: also mainly because Tadelakt leather is not suitable for everyday use and needs a little more TLC to prevent scratches that would be hard to remove.