It's exciting for me to share with you this amazing tool because of how functional it is in leatherwork. If you need to round off or trim the edges of your leather projects to give it a professional and neat finish, you'll definitely need an edge beveler. But getting the best and most ideal edge beveler can be overwhelming due to the volumes out there. So, what are the best edge bevelers for leather?
The best edge bevelers for leather are:
Tandy Leather Edge Beveler
WUTA Leather Edge Beveler
Tandy Leather Craftool Pro Classic
Wessben Leather 4 Set Edge Skiving Beveler
7 in 1 Pro Stitching Groover and Creasing Edge Beveler
OWDEN Professional Edge beveler Tool
You do not have to be a pro to be able to buy an edge beveler. All you simply have to look out for in addition to their overall price are a few other major key factors which are the size and groove width.
With the brief description of what edge beveler is out of the way, let's jump right in. The best edge bevelers in no particular order are:
1. Tandy Leather Edge Beveler – (Best Versatile Edge Beveler)
Size: 2
Product Dimensions: 8 x 3 x 0.9 inches
The Tandy leather edge beveler is the most versatile edge beveler you can ever buy. The size 2 is the ideal size for all degrees of beveling either on heavy ounce leather or a thinner ounce of leather. It's the Ideal beveler tool if you need to buy just one beveler that can cater to all your projects.
Although this particular Tandy leather edge beveler come in 4 different sizes, our pick was the number 2 due to its wide array of leather application.
Pros:
It bevels and rounds off edges of leather nicely
It cuts the edges smoothly
Very easy to use
Comfortable grip
Cons:
Its metal ferrule can be a bit loose
If you're interested in the Tandy leather edge beveler, you can check it out here on Amazon! It sometimes gets cheaper on the Tandy leather main website so you can check it out over here!
2. WUTA Leather Edge Beveler – (Best Beginner Edge Beveler)
Sizes: 1 – 4 for you to choose from
Product Dimensions: 6 x 5.2 x 1 inches
If you're keen on precision on the type of bevel trims you create, the WUTA leather range of edge bevelers is a good option for you. It covers almost every millimeter when it comes to edge beveling cuts.
It's particularly ideal for beginners who like to follow DIY instructions and would mostly be required to make precise bevels trims of certain measurements and angles. It's also great for professionals. It's made up of high carbon steel edge skiving with a comfortable wood Handle.
Pros:
High Carbon steel gives it an enhanced durability
Great beginner edge beveler
Can be used for any thickness of leather
Sharp and smooth
Lightweight and portable
Cons:
Contrary to the picture displayed, the price is just for one tool
Pricy for just one tool
If you're interested in the WUTA Edge Beveler, you can check it out over here on Amazon!
3. Tandy Leather Craftool Pro Classic – (Best Professional Edge Beveler)
Sizes: 1 – 7 for you to choose from
Product Dimensions: 8 x 1.9 x 1.5 inches
The Tandy Leather Craftool pro classic edger is made of stainless steel with a super comfy hard rubber plastic handles. This is the creme de la creme of professional quality edge bevelers. They come in a wide range of 7 sizes for use on lightweight very thin leathers all the way up to double thickness and very heavy leather. They are particularly great for saddle making.
Pros:
Great for repeated cuts
Maintains good sharpness
Large size handle for supreme comfort
Stainless steel ferrule
Easy to use
Cons:
The bigger the size of the tool the more expensive it is
If you're interested in the Tandy Leather Craftool Pro Classic, you can check it out over here for sizes #0 #1 #2 on Amazon! You can also check it out on the Tandy leather website for occasional promo prices here!
4. Wessben Leather 4 Set Edge Skiving Beveler – (Best Budget Pick)
Sizes: 2 – 5 for you to choose from
Product Dimensions: 8.8 x 2.3 x 1.5 inches
The Wessben Leather edge skiving bevelers are great if you're looking for a variety of edge bevelers at a relatively cost-effective price, then this tool is a great option for you. It comes in a set of 4 with sizes ranging from 2, 3, 4, 5 and makes a groove width of 0.8mm, 1.0mm, 1.2mm, and 1.5mm respectively.
It's made with high carbon steel and a beechwood on its handle. This edge bevel is very sharp and durable with a really nice finish. It's particularly great for making handbags and purses.
Pros:
Cheap
Comfortable grip
Comes in a set of 4 tools
Versatile
It's very sharp
Cons:
If you're interested in the Wessen Leather 4 Set Edge Skiving Beveler, you can check it out over here on Amazon!
5. 7 in 1 Pro Stitching Groover and Creasing Edge Beveler – (Best Multi-Functional Edge Beveler)
Product Includes: Adjustable groover width from 1.5-20mm, 3 Replace Edge Beveler Tips width:0.8mm,1.0mm,1.2mm
This an ideal Leathercraft mini toolset that is great for you if you often do a combination of leatherwork activities such as beveling, sewing, and creasing. It's particularly useful for spacing hand stitching holes and make running over already made stitches very easy with a very nice look. You can also draw sidelines and make a pulling ditch. It's a multi-functional that gives you more functionality.
This tool comes with 7 parts that include 1 original edge beveler and 2 other bevelers tips you can easily swap in and out. The beveler tip width is 0.8mm, 1.0mm, and 1.2mm. It also has a creaser, a set of pro stitching groover, and an edge guide.
Pros:
It's a great start kit
It's a 7 in 1 toolset
It's very Cheap
It's very portable, lightweight, and handy
Apart from beveling you can crease, carve,
Cons:
The edge bevelers are not marked
Swapping out parts can be quite tedious
Screws that hold parts are so small if not careful could be lost
It may take some time to get used to it
If you're interested in this tool, you can check it out over here on Amazon for a great price.
6. OWDEN Professional Edge beveler Tool – (Best Wide Mouth Edge Beveler)
Size: 6.0mm
Product Dimensions: 1.1 x 1.1 x 6 inches
The OWDEN Professional edge beveler is a french style wide mouth skiving tool with a 6.0 mm blade cutting width. This tool is made up of an ebony wooden handle, brass ferrule, and a high-quality stainless steel blade. Although it's a great edge beveler, it's particularly ideal for skiving any part of the flesh side of vegetable-tanned leathers. You will really like how you can use it to make repeated trims and cuts to get the ideal leather thickness you'd want.
Pros:
Can be used for all sorts of leathercraft
6.0 mm wide cutting width
Great for skiving leather
Cons:
It's pricy for people on a budget
If you're interested in this tool, you can find it here on Amazon!
Buyers' Guide: Things To Consider!
First, what's an Edge Beveler?
Edge bevelers are used round or trim the top corner edges of leather of varying thickness to give it a professional and top-grade quality finish. The use of the edge beveler is mostly preceded by slicking or burnishing. One important thing the edge beveler does is to help prevent the edges of your leatherwork projects from having an ugly mushroom end.
Buying an edge beveler shouldn't be difficult even if you're an absolute beginner. Just as mentioned above, there are a few key parameters or factors to consider when purchasing your very first edge beveler or going for an upgrade if you already own one. Here are a few things to consider!
The Thickness of Leather You'll Use
The thickness of the range of leathers you'll be working with. Here you'll have to figure out if your projects will include bigger ones or smaller projects. This is one way to determine the most common types of leather thickness you'll need to use. One good thing about knowing the thickness of leather you'll be using will help you also know the size of edge bevelers you will also need.
Edge bevelers come in different sizes that make different sized bevels. Usually, the wider the groove the rounder the edge of the leather is beveled vice Versa. You will find that the edge beveler comes in a variety of sizes but the more common edge bevelers with their corresponding leather thickness it's most suited for are:
Edge Beveler Size
Leather Thickness
It's Best For
Result
Size 0
1 – 3ounces of Leather
Super Fine Edging
Size 1
3 – 4ounces of Leather
Fine Edging
Size 2
4 – 6ounces of Leather
Most Versatile
Size 3
6 – 8ounces of Leather
Versatile
Size 4
8 – 10ounces of Leather
Heavy Bevel Edging
How Comfortable It Is
Comfort is relatively important for crafters as such the edge beveler needs to be easy and comfortable to use. Having said this, you'll also need to look at the handle of edge beveler. The most common handle types are made of wood and plastic.
Frequency of Use
Furthermore, consider how frequent you'll need the edge beveler. This will help you choose edge bevelers that are more durable and retain its sharpness for a much longer time. It will also help you choose between getting single tools or getting a complete set so that you can ration the use of the tools.
The Type of Edge Beveler
In addition, you need to consider the beveler type. There two main types of edge beveler namely the Regular edge beveler and the Keen edge beveler.
The Regular Edge Beveler
The regular bevelers which are your standard edge bevelers are the very straight edge bevelers with some form of an angle on the end with the beveled edge a bit convex or rounded over. It is essentially used to make 45 degrees cut on the edge of the leather.
The regular edge bevelers because of how straight it is, it's really great with the inside corners of leathers as it will maneuver or plow through easily without any obstruction from any part of the tool. The downside to the regular edge beveler is that it's very difficult to go over the same cut that's made.
The Keen Edge Bevelers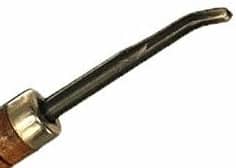 The keen edge bevelers are arched, concaved or dished with a little bit of radius on it. The major advantage the keen edge has over the regular edge beveler is that you can go over trims and cuts much more easily due to its indenture or concave ends.
So essentially, you can go over and over and over again with the keen edge bevelers till you get the required perfection you want. The keen edge bevelers result in a much-rounded edge on the leather making slickering or burnishing much easier.
The numbering on the edge beveler tools can be a bit confusing but one simple trick that can help you identify what size of either keen edge or regular to go for is that the number written on an edge beveler corresponds to half the leather weight you can ideally use on.
For example, a size 2 edge beveler can be used on a 4-ounce leather while a size 4 edge beveler can be used for an 8-ounce leather.
However, the downside to the keen edge beveler is that it's very difficult to maneuver inner corners because the shaft begins to hit the corners of the leather.
How Do You Sharpen an Edge Beveler?
If you're a leatherworker or enjoy making leather products, there's a chance you'll need or make use of an edge beveler. There are different sizes of edge bevelers for different sizes of leather and you sharpen it by stropping.
One of the most common stropping method is to get wet and dry paper (P600 and P120), a strop board, and scrap bits of leather. With your P120 wet and dry paper, drag the underside of your blunt edge beveler straight back towards you along the flat edge in a consistent fashion so that you don't round off certain parts of it. Repeat this process for about 2-3 minutes.
Once this is done, you can wrap a piece of paper on the edge of a piece of leather that can fit the craves of the front side of the beveler and run it along to sharpen it on the frontside as well. You can alternate between the P600 and P120 wet and dry to fine-tune or polish the edge of the beveler.
A simpler method to sharpen an edge beveler is to use a polishing compound and piece of leather. For example, to strop (sharpen) a size 2 edge beveler, get a 3-4 ounce piece of leather and apply a polishing compound on the very edge of the leather.
The polishing compound makes the edge of the piece of leather a gritty texture so much that when you run the blade of the beveler over it, it gets sharpened. You can tell it's sharpened when the blade begins to shine quite a bit.
To polish much bigger sized edge bevelers, you could use double the size of the beveler you intend to sharpen. For example, you can use a 10-11 ounce piece of leather for a size 5 edge beveler and a 6 ounce leather for a size 3 edge beveler.
How do you sharpen an edge Beveler when the strop doesn't work?
Sometimes you'll have to sharpen your edge beveler another way, probably a more aggressive way because you'll find that the strop at some will not seem to work quite right.
In such instances, you can put 2-3 drops of oil on a 1000 grit sandpaper and sharpen your edge beveler over the oiled sandpaper for 2-3minutes for a nice fresh edge. After you're done doing this, follow it up with a few polishing passes over a strop and Voila! it's goods as new!
How Do You Use an Edge Beveler?
Generally, an edge beveler is really easy to use. All you need to do is to prepare the leather you intend to bevel by dampening it quite a bit with a sponge. After a minute or two, the leather would soak the moisture really nice. Depending on the thickness of your leather and the angle of the bevel you want, select the size of the bevel.
Now, round off the edge with your edge beveler from the grain side of the leather and proceed to the flesh side. Once you're satisfied with the beveling, apply a droplet of burnishing agent and polish the end with a wood slicker or a wooden burnisher.