One of the most important things about buying the right thread for hand stitching is figuring out what kinds of projects you'd be working on. Will you make general small size leather goods? Or Will you make large heavy items or repairs?
Correctly figuring out the appropriate thread can help make your work very durable and have better experience hand-stitching your leather projects.
So, what are the best threads for hand-stitching leather? The best threads for hand-stitching leather are the polyester threads, Linen threads, and nylon threads. This is because they have unique qualities that result in durable, fine, and professional stitches.
These threads broadly fall within the two major categories of natural and synthetic threads.
Along with the above-mentioned best types of threads, there are other important things to be aware of when it comes to threads for hand-stitching.
That will be touched on later in this article together with which one I'd choose, but first, let's go through the types of thread one by one so that you can understand and make the right choice.
1. The Polyester Thread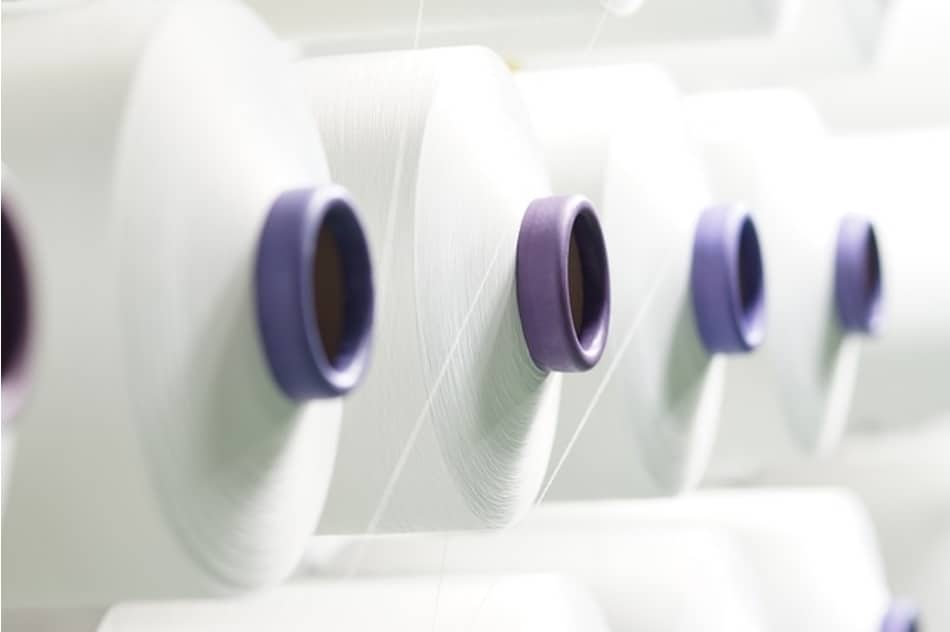 Polyester as a textile is great is made to mimic the appearance and feel of a lot of fibers. Polyester threads are known for their strength and can handle the tension of high-speed sewing and quilting machines and the wear and stretch of hand-stitching.
The colors on polyester threads never bleed when washed or cleaned with a leather saddle or mild soaps. Generally, polyester threads are made to have a lot of stretch and elongation, so it doesn't break when taut.
Polyester threads naturally repels moisture better than cotton fibers and linen fibers.
Pros:
Polyester threads are therefore great for hand-stitching leather because;
They are made from synthetic materials and thus won't perish
High strength, tenacity and creep resistance level
Good extensibility
Withstands high-temperature
Withstands washing and drying
Smooth appearance
Don't require waxing
Mildew resistant
It has UV protection. Retains strength and color better
Higher melting point (260°C)
Super easy to work with.
Resistant to most chemicals
Has good abrasion resistance
Best all-round Thread
Resistant to rot
Cons:
Susceptible to damage if exposed to highly alkaline chemicals or substances like certain types of food (such as broccoli)
Requires additives or coating to prevent wicking.
You can find these brands for polyester threads on Amazon for different prices, so I would definitely look around to see what your best options are.
2. The Linen Thread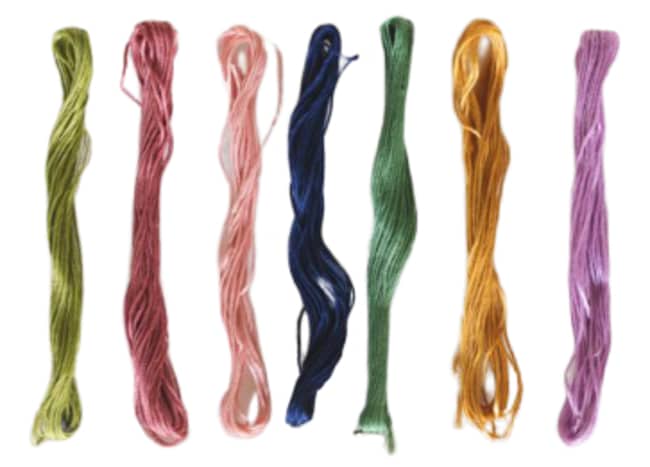 Linen is a textile made from the fibers of the flax plant. Linen is a bit difficult to manufacture, but the resulting fiber is very durable, absorbent and dries fast.
Flax is one of the oldest textile materials which belongs to the group of bast natural cellulose textile fibers. The use of linen thread predates both nylon and polyester thread.
It is great for stitching leather items such as shoes, saddles, holsters, golf bags, briefcases, rifle cases, luggage, etc.
Linen is also great for stitching smaller goods like watch straps because it can make small fine stitches and really good for small detail stitches.
Although it's likely to find the use of linen threads in sewing machines, it's not that strong. To make it a bit easy for stitching, linen thread must be run through a wax pot on the way to the stitching needle of the machine.
So linen threads in leatherwork are often used in hand-sewn projects. Almost every hand-sewn leatherwork project is done using waxed linen thread.
The widely preferred size of linen thread is the 6 cord waxed linen thread due to its incredibly strong and long-lasting quality.
Pros:
Linen threads have high strength
Low elongation
Great sheen
Wear resistance
Linen threads are resistant against effects of heat, light, and climate
Can be used to attain great fine stitches
Cons:
Requires waxing to make hand-stitching easy
Quite difficult to stitch on a sewing machine even with a wax
You can find these brands for linen threads on Amazon for different prices, so I would definitely look around to see what your best options are.
3. Nylon Thread
Nylon threads are synthetic threads often used in the form of a monofilament clear thread or as a textured fuzzy thread. It is one of the cheapest options for stitching.
For leatherwork, the bonded Nylon thread will do justice for your craft. Bonded nylon thread is a really great choice of thread to sew leather, and you can get in a variety of weights that matches well with different weights and thicknesses of leather.
Bonded nylon is a strong and highly durable thread. The bonding processes adds strength and reduces the amount of friction making the sewing smoother and faster.
You would want the bonded nylon thread to stitch your leather because the bonding agent used helps reduce the friction during the stitching process.
Its durability prevents the thread from untwisting regardless of the number of times it's drawn through the layers of the leather however thick it is.
Nylon thread in addition to being used for hand-stitching in leather is a great choice for sewing other materials such as fabrics, canvas, and vinyl.
It is popular for automotive interiors, upholstery, and many other applications where it isn't much exposed to weather conditions like direct sunlight.
Nylon thread has a smooth, glossy, shiny finish if not carefully applied will not go well with leather.
Pros:
It has moderate UV protection
Nylon Thread has excellent abrasion resistance
Nylon thread stretches well
Cons:
Nylon thread doesn't do exceptionally well with direct sunlight
Prolonged exposure to sunlight causes some deterioration
You can find these brands for Nylon threads on Amazon for different prices, so I would definitely look around to see what your best options are.
Guide for Choosing Threads for Hand-Stitching Leather
Here is how you can simply evaluate to find out what thread is best for you. By reading this you can easily pick out the type of thread that will be ideal for your project even if it is not in the categories of linen, polyester, and nylon threads.
When getting a thread for leather stitching you can assess the thread based on the composition of the thread, How it is made, durability, how easy it is to use, wax content, ease of threading, appearance, and colors, and price.
1. Composition of the Thread
This is just about figuring out what the thread is made of. You can source this information from the packaging of the thread or by asking the shop attendant.
You will want to find out if the thread is made out of man-made material like polyester or natural like flax and cotton.
I personally find linen threads made from flax to be great but tend to be worn out after a long stitch while cotton threads were just too expensive. When I noticed this when starting out in leatherwork, I did a quick search and found the polyester thread made of synthetic materials to be more robust and all-round thread.
2. How the Thread is Made
There are different ways threads are made. You will find that most threads are basically either twisted/cabled or braided.
Even though twisted threads are good for hand-stitching, they tend to untwist very quickly or eventually break by the time you get to the end of a long stitch.
Braided threads are more durable and are able to stay static even after a long stitch.
3. The Durability of The Thread
The strength of the thread is key. You will want the thread you use to have some amount of inherent strength and be able to withstand wear after the thread has been run in and out of several holes without weakening or wearing out.
Braided polyester threads or bonded nylon threads do a better job at this as it is extremely difficult to wear, snap or break, unlike twisted linen threads that wear and tear quickly.
4. How Easy it is to Use
This may depend on how much skill you develop over time. The thread you choose must have some structure. Linen and cotton threads tend to be floppy and make it difficult to use when hand-stitching leather.
You will find the polyester thread to have more structure and can even be static with no support even so that you can push it through a needle by itself.
5. Wax Content
Waxing threads give thread weight, structure, helps to tension stitches, help you with the grip on the thread when hand-stitching. It also makes the thread smooth instead of being fibery.
Most threads will come pre-waxed while others won't. At other times, threads will come pre-waxed but won't feel waxy as much and so you will have to apply some coats of beeswax depending on what you will be making.
Linen threads are known to have internal waxing that is why they don't feel waxy. So in some simple steps, you can add wax by running the thread through a block of beeswax. You can, however, use the default wax content and that will also work great.
6. The Ease of Threading
Generally, when working on leatherwork projects, speed counts as when you get into the business and you have dozens of order and your setup is not at the industrial level, you wouldn't want anything slowing you down like spending minutes to thread.
How easy it is to thread a needle is something to also consider. In a simple linen and polyester analogy, linens are difficult to thread compared to polyester threads.
Polyester even without waxing can smoothly be run through a needle in split seconds while the opposite can be said for linen threads.
You must carefully wax linen threads and possibly skive or use a mallet to flatten it before threading successfully.
7. The Size the Thread comes in
Different brands have different measurements in terms of the size of the thread. Most threads are sold in metric sizes, for example, .6, .8, 1mm, 1.2mm, 1.4mm, 1.7mm, etc.
As a general rule of thumb, for general leather goods, use small size threads less than a millimeter. And for large heavy-duty items like sheaths, holsters, saddles, briefcase, luggage, etc you can use thread size above 1mm.
You can also use any kind of thread regardless based on the look you want to achieve for a leatherwork project.
8. Appearance and Colors
For colors, earth colors are the best match for leather, especially when working with vegetable-tanned leather. Earth colors such as shades of brown, lighter browns, neutral colors of grey, white and black will give great stitch finishing to your projects.
While colorful threads may be a no-no for leatherwork, they are generally suitable for fun leather items like designer handbags, watch straps, to mention a few.
9. Price
This is the big question, How much? The price of thread you choose depends on your budget and personal preference.
Generally, the price of threads made from natural materials is more expensive.
For example, the price of linen or cotton threads can be 3 times higher than the price of a polyester thread. While linen threads tend to be more expensive, they also tend to last longer.
If you invest in them, you can be assured you won't be replacing your thread anytime soon.
Thread Hacks For Leather Hand-stitching
Here are some key points to remember especially for you who is just starting out leatherwork hand-stitching with thread.
Having the right thread, knowing the type of stitch you'd use, and some best practices are essential tools to have that will benefit your stitching techniques.
With these tips, your confidence will boost and will be hundreds of times easier to stitch within the first few attempts.
1. Always mark out stitching lines before pricking the leather
2. Position your stitches 4mm from the edge for thick leather projects and 3mm from the edge for light or skived leather.
3. Consider using the Saddle stitch or two-needle stitch because it results in durable stitches when hand stitching leatherworks. It is great for utility projects as even one a stitch breaks, you will still find other strands of stitches still holding up.
4. Skive the thread you will be using and apply two or three coats of beeswax so that needle threading will be easy for you. You can also use a mallet to flatten the thread before passing it through a needle's eye. Apply several coats of beeswax to the entire thread to protect the thread and prevent it from entangling.
5. Always start stitching from the far end of the leatherwork project and stitch towards you for a consistent pull. Also, watch your pull on the threads on both hands.
6. Finish off the end of a stitch with a simple backstitch. Backstitch is when you repeat the saddle stitch in reverse at the end of a stitch.
7. For good stitching glued pieces of leather, skive the edges of the glued pieces.
8. After your stitching is complete on the leather, place a piece of paper on the stitches and pat it down to give it a professional look.
9. For nylon thread stitches, burn the ends of the thread when you complete a stitch.
10. When the thread breaks, rethread the needle and go back one stitch-step and continue stitching.
11. In case you decide to change the color of the thread by dying, you should first know that only linen can be dyed. Remember to test dye a piece of thread.
12. Put unused threads in a polythene bag to preserve the wax treatment on them and also prevent the threads from becoming dirty.
Other Materials and Tools For Hand-stitching Leather
1. Stitching Pony or Horse
The stitching pony is a great stitching device. It is designed to be put on a chair you can sit and rest your legs on. You can also mount it on your workbench.
You can then clamp your project into the teeth of the stitching pony. It is really easy to readjust because of its hinge.
The best types of stitching pony are the ones with a swivel function beneath that make it easy to also adjust the neck to different directions.
With smaller projects like wallets, you can adjust its bolts and washer upward for a more firm grip on the teeth.
It is great because it allows you to focus both of your hands on stitching the leatherwork project making your stitching to move faster.
Can you imagine holding your leather project in one hand and doing a saddle stitch with two needles?
2. Needles
When hand stitching leather, the most common type of hand stitching used is the saddle stitches and the single needle stitch.
The Saddle stitch stands out as the most used due to its durability even compared to the sewing machine regardless of how slow it is. The saddle stitch technique requires you to use two needles.
Harness needles used for saddle stitching come in different sizes. You should always buy the needle that fits your leatherwork project. Some needles like the size 432 will give your product a heavy-looking stitch while 004 or 532 sizes will give you a delicate-looking stitch.
It all rests with the kind of look you want to give to your leatherwork projects.
It will be great if you buy needles in packs because you will definitely break a few. Save yourself an unplanned trip to the craft store in the middle projects and buy loads of needles in advance.
3. Beeswax
Beeswax generally plays a great role in hand-stitching leatherwork. It is used to give the stitching thread weight, rigidity, and to prevent the thread from breaking especially in the case of linen threads and nylon threads.
It is applied by simple running the thread on a block of beeswax. Several coats of beeswax can be applied depending on what you are working on.
Others improvise by using regular candles if they don't have beeswax with them. Candles also work quite well.
4. Pricking Iron
Before hand-stitching, you would have to make a bunch of holes on the leather item. Pricking iron is used for that exact purpose. It not only does it make holes but also gives you a classic angle to your stitches.
Before pricking the leather with the iron it is always great to rule guidelines so that you can make accurate holes on the leather.
5. Marble slab and Rubber Board
First off, the marble slab and rubber boards are used when creating the holes on the leatherwork. Because you will be using a pricking tool, you will need to strick the tool with a mallet. This activity can be very noisy and can cause damage to your pricking tools.
So to reduce the noise that using a pricking iron and mallet makes, you mount your rubber board on your marble slab before pricking through the leather.
The rubber board also protects the teeth of the pricking iron after a strick on it.
6. Stitching Awl
The stitching awl is just like a regular awl. It is used to push through a hole when stitching. If you find that the holes you create are not punched all the way through, you can use the stitching awl to finish off the hole.
A stitching awl is sharp on both ends and has a diamond-shaped tip. It is required that you strop your stitching awl quite often. Sometimes you may even have to sharpen it right after purchasing it.
7. Lighter
In the case where you will need to use a polyester thread, a Lighter will come in handy. The lighter is used to burn the edges of the thread after stitching.
So simply put, when you get to the end of a saddle stitch, you just do a quick two to three-step backstitch, cut the thread and then burn off the edges of the cut thread. The burnt edges will create a mushroom shape that will prevent the thread from coming off.
8. Scissors
The primary role of the scissors in hand-stitching leather will be to enable you to cut out threads either at the end or the beginning of the stitching process.
Any sharp scissors will fulfill this purpose just fine.
9. Mallet
You will definitely need a wooden or rawhide mallet to strick your pricking iron when creating holes on the leather item.
Mallets are suitable because they will not damage the heads of your pricking too like a hammer will.
Since all pricking irons are obviously metals, as a rule of thumb, you don't strike a metal tool with metal (hammer).
So, the final verdict for the best thread for hand stitching leather. Which is best, Really? In my eyes, the polyester thread, nylon thread, and the linen threads are all great kinds of threads for different kinds of projects. It is basically up to you and what you hope to achieve in a leatherwork project in terms of style, looks, and feel. You can trust that all of the three threads are great and all you need to do now is to explore them and find which of them you like best and works great for most of your projects. Remember, some brands have the kind of thread and thread size they use as part of their identity. Create your identity with the thread that best reflects your designs and style. 🙂
Watch a video on How to do Saddle stitching in leatherwork
Watch a video on How to do Saddle stitching: The one needle Method
Related Questions
Why should you wax threads when stitching? Waxing threads when stitching prevents it from entangling and also protects the thread as you stitch giving longevity to the stitches on the product. The beeswax used to wax threads for leatherwork.
How do you wax a thread for stitching leather? Thread is waxed by running a cutout piece of thread around a block of wax and with the temporal heat from the thread the wax coats the thread making it straight and less likely to tangle.
It makes hand sewing way easy as the thread glides through the holes of the item being stitched.