If you're using a lot of heavy leather making things like watch straps, bracelets, belts, dog collars, harnesses and you will want to punch holes or make perfect end cuts, you will definitely have a need for some heavy duty leather strap punches to make your work professional looking.
In this article, I researched on 8 leather strap punches. While these are not the tools you might think of often, you will find some great use for them apart from their intend purposes.
Here are 8 Leather Strap Punches you will find very useful for your leather strap projects:
English Point Leather Punch
Round Strap End Punch
Half-Round Strap End Punch
V-Shape Strap End Punch
Leather Oblong Punches
Leather Drive Punch
Rotary Punch
Slit Punches
1. Leather Strap End Punches
Leather strap end punches are a variety of tools that are designed to perfectly round off, render a pointed edge or a tapered on the edge of strap pieces of leather for belts, bracelets, dog collars, and many others.
These tools are versatile – comes in a variety of sizes and results different shapes on the ends of your strap goods.
There are 4 basics kinds of leather strap end punches you can use to create different types of end punches on your leather strap. These are:
English point leather punch
Round Strap End Punch
Half-Round Strap End Punch
V-Shape Strap End Punch
English Point Leather Punch
While this tool has many names such as English strap end punches or Belt tip punch, it maintains one basic function – which is to cut perfect end points on belt straps so that the belt strap easily slides into a belt or strap buckle.
You can actually make these sorts of edge cuts freehandedly but nothing will compare to the crisp, precise, consistent, and more importantly tapered edge cuts you're going to get with the english point leather punch.
It comes in different sizes and if you truly want your leather work projects to have the very best professional look, the English Point Leather Punch will work that magic for you. This 8 piece English point set from WellieSTR on Amazon is super cool, high-quality, and very affordable – and will serve you with a variety of English points for all your strap end needs.
You can also check out a full review article I wrote on some of the best English Point Leather Punches here!
Round Strap End Punch
The round strap end punch is also a very versatile tool and you will discover a lot more use for it once you get used to it. You're primarily going to be able to put a nice round end punch on straps you will use for bend backs to attach belt and strap buckles or straps meant to be attached to projects. It's also great for leather belt ends.
You can check out this round strap end punch over here on Amazon. It's from Tandy leather factory, it's really a great piece if you want high quality heavy-duty 1-inch round end punch for your work.
Half-Round Strap End Punch
The Half-Round Strap End Punch is also similar to the round end punches but are typically not made for straps that are going to go through buckles.
With a Half-Round strap punches like this one from Amazon, you will be able to make perfect end punches for bag strap locks, wallets, card cases, watchbands, handbags, holes, and many other design applications.
V-Shape Strap End Punch
The V-Shape Strap End Punch is another strap end punch you can use on your straps. Generally, the resulting shape on the end will be in the shape of "V" as the name implies. The use of the V-Shape Strap End Punches are mainly limited for use on belts, strap and strip locks for bags and purses.
2. Leather Oblong Punches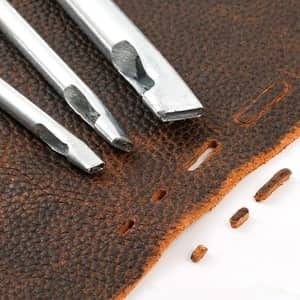 The Leather Oblong Punches are very important if you're going to add buckles to the ends of leather straps when making leather article like belts, bracelets, watchbands, and so on.
The leather oblong punch help to create long elongated holes on the end of a strap. The purpose of these oblong shaped holes is to allow the long buckle tongues to slip through the strap easily and professionally.
It's also an awesome tool to make decorations for appliqué work, weaving, bullet loops, and many many other range of decorations. It's a professional tool that's absolutely fantastic and versatile.
If you want to take your leather belt making to a Professional level with perfectly set buckles – and also being able to do a couple of cool decorations on your straps and belts, then getting a leather oblong punch like this one from Amazon will be an invaluable addition to your tools box!
3. Leather Drive Punch
The leather drive punch is also known as a belt punch or round punch. The A.K.As obviously gives away the purpose of this tool. First is, it's a belt punch and the second, it's used for punching round holes. The drive punch works just like the rotary punch but has a couple more advantages.
The biggest advantage the drive punch has over the rotary punch is how it can be used to create round holes on any part and hole sizes that are bigger of leather strap, while the rotary punch will be limited only to the edges of the belt or strap.
Another big advantage with the drive punch over the rotary punch is while the rotary punch will be come with 6 fairly small hole punches, the drive punch usually comes with over 10 different hole sizes.
This makes the leather drive punch very versatile and ideal for setting rivets, grommets, press studs, appliqué designs, and many others.
The downside, however, is while the rotary punch is a one hand operated tool, you will need both hands for the drive punch. You will also need a mallet for a the drive punch unlike the the squeeze action required with a rotary punch.
But all in all the leather drive punch is going to be a great addition to your tools collection if you do a lot of leather strap and belt projects.
4. Rotary Punch
The leather rotary punch is a very common leather work tool used to punch different sizes of holes on leather and a great tool for punching round holes mainly on the edges of straps and belts. It's also known as a revolving punch.
The rotary punch has a revolving head. The way it works is very simple – you will rotate the hole size of your choice and press its handles together tightly to create a hole.
There are several advantages to this tool. It's a great beginner friendly punching tool, offers a variety of holes, and a super quick way to make holes on leather straps.
If you're interested, you can check out a guide I wrote earlier on rotary punches and a couple of awesome recommendations.
5. Slit Punches
Leather slit punches are possibly one of the most basic tools you would get when starting out in leather work. The general characteristics of a leather slit punch is that you will be able to create slit holes on the edges of your straps for thonging.