Honing or polishing the cutting edges of your tools such as your chisels, knives, etc, using a leather strop after sharpening gives them a mirror or glossy finish with an ultra-sharp cutting edge. In this article, I researched to help you with the best leather for a strop.
So, what leather is best for a strop? The best leather for a strop is a good quality vegetable-tanned leather as any other type of leather will require various forms of compounds. The main reason why vegetable tanned leather is great for a strop is that it has the presence of natural silicate which is absent in chemical or oil-tanned leather.
Now that we have a general idea of the best leather for a strop, let's now take a look at some specific leather types, their qualities, and characteristics that make them ideal for a strop. But first, what is a strop?
What's a Strop?
A strop is generally a narrow strip of a suitable material such as leather (most preferred), canvas, fabric, balsa wood, denim, etc and is used to give the blades of tools a gloss, a nice polish, or finish of a sharp edge.
What's a Compound?
A compound is an abrasive substance you would apply on the surface of your strop to make it's surface coarser than if bare. Compounds tend to give the blade of tools a fine edge much faster and quicker than bare stropping material being bare.
Compounds are generally really easy to use as you can purchase them in a piece of block and simply rubbing them like you would a crayon over a surface.
If you would want to use compounds, for the surface of your strops then the type of leather may not necessarily matter. Leather, if possible, should be used for strops without compounds.
Types of Leather Best for a Strop
There are a couple of good options when it comes to the best leather for a strop. Here are a few examples that are outstandingly great and will be perfect for all your needs.
1. Buffalo Leather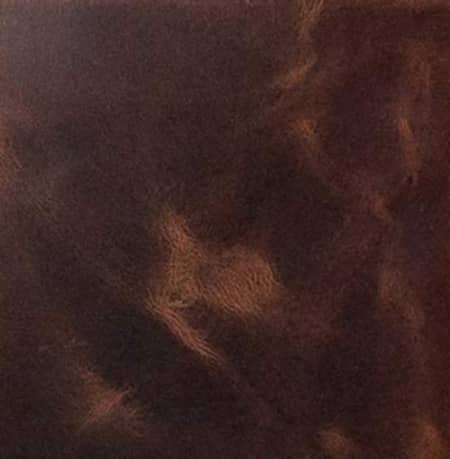 The buffalo leather naturally contains a higher concentration of silicate and more glossy when compared to the Latigo leather. The buffalo leather is your go-to if you intend not to use any for of compounds.
Or alternatively, if you would like to use compounds on this type of leather, it's a great option because it's super easy to clean off compounds.
The buffalo leather is also referred to as the English saddle leather. Due to The buffalo leather epidermal layer, it's three times thicker than cowhide and owns its extreme strength and durability to this characteristic. 
2. Raw Buffalo Leather
Another strop appropriate leather in the family of buffalo is the raw buffalo leather. The raw buffalo dense or heavy form of the buffalo. Generally, buffalo hides are not stretched during the tanning process, unlike cowhide do it's, therefore, thicker and more resistant to tear and wear.
The raw buffalo is in almost every aspect, the same as the buffalo leather. The only difference is that it doesn't have the high gloss finish of the buffalo leather due to its dense nature.
3. Latigo Leather
The latigo leather is made from cowhide and is really great for a strop if you're just starting out with stropping and are not sure or have no experience with using compounds on leather strops.
Latigo is the Spanish word which means "whip". Latigo is made using a combination of tanning processes that includes chrome tanning and vegetable tanning respectively. With both tanning processes combined, you can certainly expect nothing less than less durable and supple.
While the latigo leather is really budget-friendly, beginner-friendly, and works perfectly for a strop, the downside to it is that it's slow and takes a lot more time to complete.
Although the Latigo leather works great as bare leather without compounds, it can also be loaded with compounds to speed up the stropping process.
When using compounds with latigo leather, you simply load up a layer of compound ranging between two thousand grit all the way to a hundred thousand grit according to your preference.
An important characteristic of using latigo with compounds is that it absorbs a lot of the compounds you place over it over time and not easy to clean.
4. The Equine Leather: Equine Non-Shell Cordovan & Equine Shell Cordovan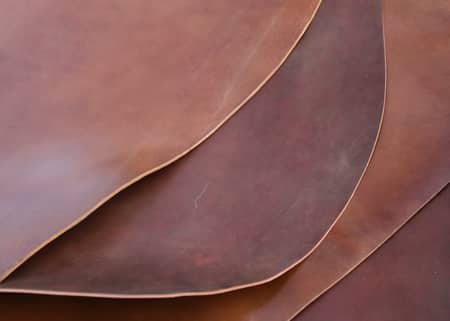 The equine leather consists of two groups of shell cordovan namely the non-shell cordovan and the equine shell cordovan leather. There aren't many differences in the makeup of both types of equine leather under review here.
The most apparent reason among the two is that the non-shell cordovan is a bit matte than the shell cordovan leather. Also, the equine non-shell cordovan has the highest concentration of silicate and is suitable with or without the use of compounds.
There are certain instances you'll want a nice extra gloss or mirror-like finish on your tools such as knives, skivers, etc. The shell cordovan is a great option to obtain this effect due to its high concentration in silicate and it's unique membrane that doesn't come out off of the hide itself.
Another interesting fact about the equine leather is that when it's rubbed on its flesh side, you will feel how rough it is compared to the buffalo and latigo making it very useful for stropping as well with its one-directional sandpaper-like texture.
The best thing about the equine leather for a strop is the consistency you will get in terms of evenness and smoothness throughout the entire piece of hide from one edge to the other. Unlike the uneven splotches, the cowhide and buffalo will have.
What Can you Use instead of a leather strop?
While leather has been preferred for a strop from time immemorial due to several reasons such as its natural silicate concentration, flexibility, or leather for strops as part of a long-standing tradition, there are some other materials you can use in the absence of the above mentioned types of leather.
Here's a list of suitable materials you can use instead of a strop;
MDF or a particleboard
a sheet of glass
Canvas
Denim
cut-up leather jackets
the side of boots
wooden board
old leather belts (100% cowhide)
clay coated magazine paper
Newspaper
Back of a legal pad
The palm of your hand
From the list above you will notice a simple trend of materials with smooth surfaces can possibly be used as a strop. The only thing is to ensure applying a coat of compounds on them to make them workable.
Related Questions
What side of leather do you strop on?
Stropping is best done on the grain side of the leather due to the smoothness and consistency it has. Stropping mainly requires a smooth and flat surface as it's the final treatment you will give to a sharpened edge.
Do I need a leather strop?
Yes, although stropping the blades of your tools after sharpening its edges isn't a make or break, it's certainly one of the best treatments you will give your blades to fine-tune them, re-align, sharpen, hone them for extremely sharp clean cuts.
Is a suede sided strop better than a smooth-sided strop?
Either side of the strop, be it suede (flesh side) or smooth side (grain side) will work just fine, however, people who work a lot with knives prefer the grain side most often while woodworkers and carvers tend to usually prefer the suede side.