Stepping into the world of leatherwork can seem intimidating with all the tools, materials and equipment. Searching the web for equipment like leather sewing machine can give you results on so many leather machine brands, fabric machines and more.
The roaring machine sounds and the thrilling advertisements can be intoxicating, which may push you to make a hasty decision, placing you with a leather sewing machine which isn't really ideal for you.
Checklist Guide To Buying Leather Sewing Machines
The Leather Sewing Machine you intend to buy should:
Have a walking foot
Take your type of thread
Have a speed reducer
Have a Presser foot high enough
Have Basic stitching features and Adjustments
Be Drop-in bobbin especially for beginners
Have measurements on its working area
Have a Threader and Cutter
Walking foot, Presser foot, Flatbed, cylinder bed, speed reducer, why do they all matter. All these things can be confusing to someone who has little to no experience when it comes to buying, setting up and using a leather sewing machine. Education before the purchase will save you time and money!
Let's go over what makes a good leather sewing machine, closer to the end, we'll cover some terms that may be unfamiliar to you.
Do You Really Need a Leather Sewing Machine?
Yes! Do you? Chances are you don't need a leather sewing machine. If you love to do hand sewing as a hobby while watching your favorite Tv or radio program or just reflecting on life you might not need a leather sewing machine.
However, if you are looking into mass production to sell or making larger leather items like aprons, garments, then it is an awesome idea to get a suitable leather sewing machine.
What is Your Reason For Buying A Leather Sewing Machine?
Defining the reason for the purchase of your leather sewing machine is vital. If your reason for purchasing a leather sewing machine is just getting started and wanting to explore and see how far you can go with leatherwork then, you can get a patcher leather sewing machine or a basic singer machine for about $60 – $120.
Also if you are already into leatherwork and seeking to get a bigger or better machine, you should definitely get a suitable industrial leather sewing machine.
What to Consider
1. No Single Machine Can Do Everything
Generally, one type of sewing machine may be good for one type of leatherwork. For example, there are sewing machines that are perfectly suitable for thick leathers and leather sewing machines that are purposely for making items with thin leathers.
So if you are considering working with heavy leathers with about 8-ounce thickness, then you need a machine that can punch through without flinching.
Although some machines are versatile, the more tailored a sewing machine is for a specific thing, the better. So decide what kind of leather products you are out to make and but a suitable leather sewing machine accordingly.
2. Know Your Budget
There are different price points for leather sewing machines. So if you have a small budget, then you might want to consider one group of leather sewing machines is ur and if u have a bigger budget another group.
If you want to venture into mass production of leatherwork then you need to consider an industrial sewing machine.
Getting the larger industrial sewing machine means, you will be on the high end of the price spectrum but, will have you the pleasure of larger bobbins which will allow you to do a lot of sewing in one go and will save you time changing bobbins in between complicated stitches.
If your budget is on the lower end, you should consider smaller sewing machines like the patcher or can also consider buying a clone machine from China.
Guidelines For Buying Leather Sewing Machine
1. Prepare Before Going to Leather Sewing Machine Seller
Now your mind is made up and you know where to get the machine and the purpose it will serve, take a piece of the possible leathers u will be sewing to a sewing machine dealer. You can go with vegetable-tanned leather and a few others you can find.
On arrival, make sure to try some stitches on the leather you take along.
2. Ensure The Leather Sewing Machine is a Walking Foot
Walking foot is a feed mechanism that pulls the leather through the machine as the sewing is done. Walking foot in leatherwork is crucial. The Walking Foot is an unusual looking foot and it is designed to give an extra set of feed for the top of the leather being sewn.
Walking foot is responsible for making unusual leather manageable to sew. Leather can sometimes be heavy and slippery, so the walking foot helps so the leather does not slide all over the place. It is also very handy when working on bulky leatherwork projects like belts, garments, and quilts.
3. Make Sure the Sewing Machine Takes the Type of Thread You will Use
There is a variety of thread size ideal for leatherwork. General thread size for general leather products like hats, wallets, bags and more range between 69 to 138.
Most household machines will not go above a thread size of 69 which is ideal. But, the industrial sewing machines will be a safe bet because usually, the industrial sewing machines can handle almost anything you might want to sew.
4. Ensure the Sewing Machine will allow The Installation of a Speed Reducer or Servo/Clutch Motor
Most leather sewing machines can be super fast especially the industrial ones and you might want to slow it down so as to have more control when sewing. This is where a servo or clutch motor or a speed reducer comes in. Installing a speed reducer or a server or clutch motor is optional.
Servo Motor and Clutch Motor
Using a servo/clutch motor is the best idea to slow your sewing machine down. It can be expensive to fix one if your machine did not come with one. Don't be alarmed because Industrial leather sewing machines come with a servo or clutch motor already installed.
The Servo Motors are suitable for domestic use. It is lightweight and very suitable for beginners. It will help you reduce the speed on your leather sewing machine so that you can achieve all the small detailed stitches you would have in your work.
The Clutch motor is great for industrial production and requires highly skilled personnel to handle it. It is noisy and may not be suitable for your home.
Watch this video on an extended demonstration of a clutch and servo Motor
The Speed Reducer (Pulley)
The speed reducer installation done with pulleys is cost-effective. This speed reducer is an accessory for sewing machines installed to reduce the speed. The speed reducer can be installed to the handwheel and main shaft to reduce the sewing machine speed by 1/2 or 1/3 of the machine's original speed and is usually made of pulley systems.
Most of the time, the leather sewing machine will come with a server motor that is built to help with the control of the machine sewing speed but sometimes might not have the consistency in speed you may desire. So, you might still want to install a speed reducer (pulley) to make the sewing machine subject to your speed and pace.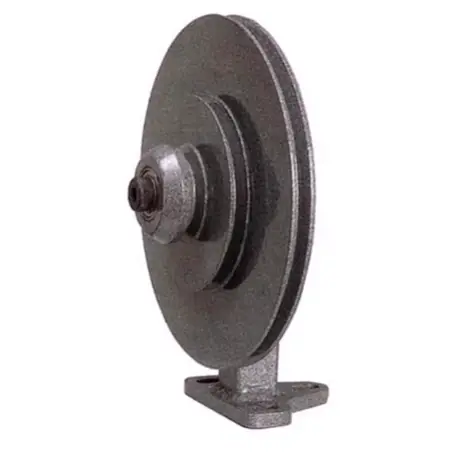 5. Presser Foot Should Be High Enough
A presser foot is an attachment on a sewing machine that holds the leather flat as it goes through the machine and stitched. When purchasing a sewing machine, make sure the presser foot is high enough so that when you so happen to stitch thick 3 – 13-ounce leather you will be good.
You can check and get a high shank foot which has a 1 inch (25 mm) distance from the bottom of the foot to the center of the thumbscrew.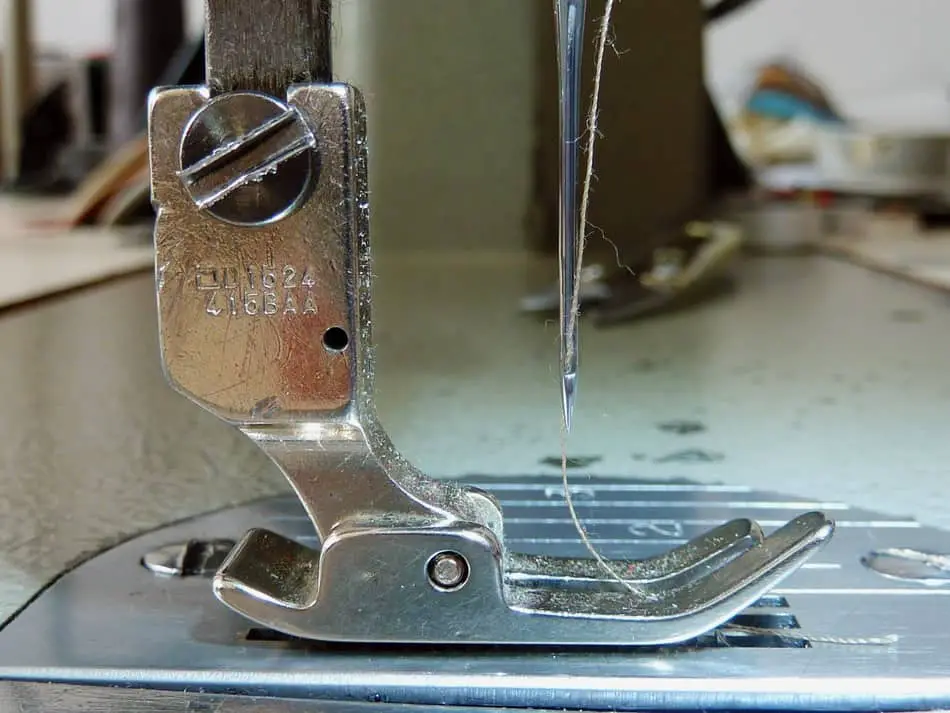 6. Basic Stitching Features And Adjustments
Your machine must have basic features like straight, zig-zag, and reverse. These are just about the basic things any leather sewing machine should be able to do.
You mustn't forget the adjustments on the leather sewing machine. Looking out for basic stitches adjustment features like width, length and tension of the thread is vital.
During your ride to the seller's shop, you should be on the lookout for the basic features.
7. Leather Sewing Machine Should have a Drop-In Bobbin
There is the drop-in bobbin and the front load bobbin. If you are a beginner, I will highly encourage you to get a machine that is a drop-in bobbin because it will make it much easier to change your bobbins.
Absolutely ignore this point if you are already an expert. The front-load bobbin can be a bit tricky to change and mostly with an obscured casing, you will not see when you are running out of thread till it suddenly gets finished.
There is some upside to getting a sewing machine with a front load. They are utilized to make the machine go much faster. It is also very convenient as you can change your bobbin in the middle of your stitch.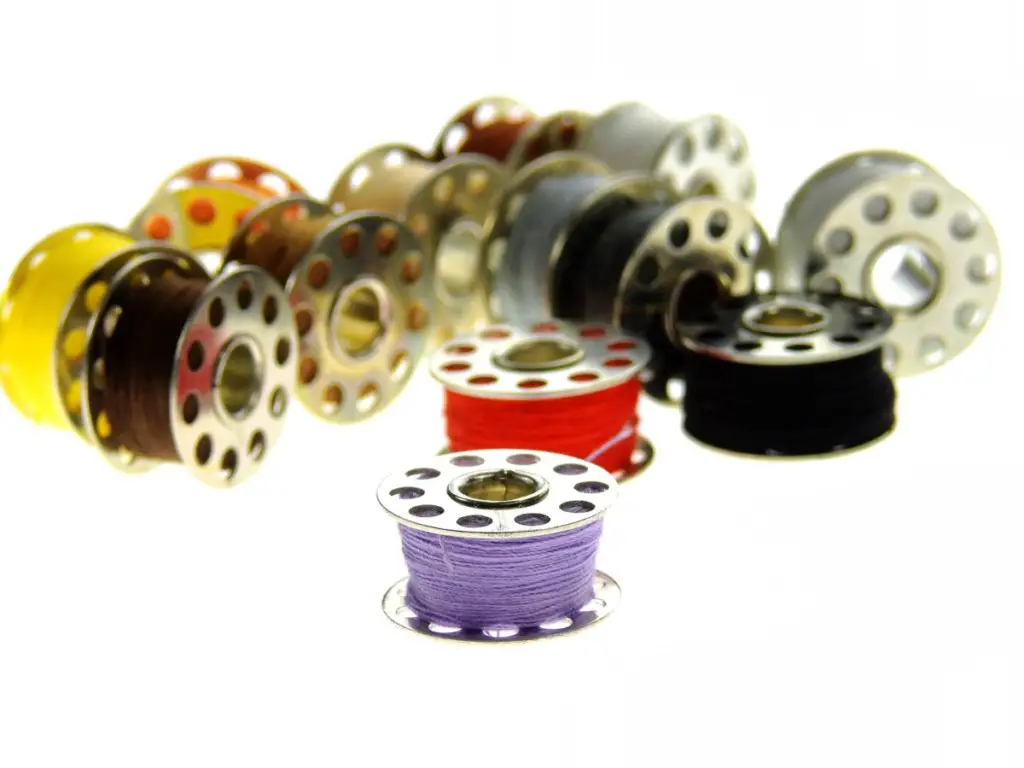 8. Leather Sewing Machine Should Have Measurements on its Working Area
For accuracy and precision, you would want the surface or plate of your leather sewing machine to have measurements and markings in either inches and or centimeters.
9. Leather Sewing Machine Should Have a Threader and a Cutter
Your machine having a threader will help you greatly. The threader makes threading so easy and fast. So a threader on a leather sewing machine absolutely a great idea.
Also another cool feature you won't want to miss on your leather sewing machine is a cutter. The cutter will help you cut threads freely at the end of the stitch.
Related Questions
Do I need to consider Weight when buying a Leather Sewing Machine?
It depends! If you are buying a domestic leather sewing machine and might want to move it about quite a bit, then you need to consider the weight. However, if your leather sewing machine is for industrial purposes, then the weight will not be a problem as industrial leather sewing machines are much heavier.
What is the most important Guideline for Sewing on Leather?
Adding an edge guide with a craft tool is very important. The benefit of doing this on leather is that it serves as a guide for your stitch and clearly indicates where the needle needs to go. It also creates a deep groove in the leather so that the stitches sit in the groove a nice finish.