There are two main issues that arise when it comes to using leather edge paints. The first being the best leather edge paint to get and the second, the techniques that works best. In this article, I carried out a research to help you answer both of these questions.
So, what are the best Leather Edge Paint? The best leather edge paints are:
Angelus Leather Paint Set (Best Most Versatile Acrylic Edge Paint Set)
Fiebing's Edge Kote (Best All-Round Leather Edge Paint)
Giardini leather edge paint (Best Branded Edge Paint)
Vernis Leather Edge Paint (Best Heatable Edge Paint)
For each brand of leather edge paint, we will look at the features, pros, cons, and the best practical ways to apply them. Keep reading to find out more!
What's a Leather Edge Paint?
The leather edge paint is a pigment based substance specially formulated to be applied on the edges of leather article to add to the quality of finish and to protect or render the edges of the leather article water-resistant. Just like all other kinds of painting, it's often applied in layers or coats.
While most crafters, especially beginners, will consider burnishing as their go-to finishing technique over edge painting – due to how easy it may be, leather edge painting isn't and shouldn't be (perceive) difficult. What's important is knowing the best type of paint to use to and how to use it effectively.
Another major source of concern to many apart from the perceived difficulties of choosing and using leather edge paint is the paint cracking, peeling or fading.
But like burnished leather edges, painted leather edges will wear out with time just as burnished edges will loose its burnish. What substantially helps is using high quality leather edge paints taking into consideration best practices when it comes to using them. By doing so, your finished leather edges will retain its intended look for a really long time.
What makes using leather edge paints even super cool more than burnishing is how easy it is to finish off the edges of all types of leather edges – so whether firm leather edges, thin, pliable, or supple leather, you will be able to achieve a nice professional finish with your leather edge paints.
Now, in no particular order, let's take a look at the best leather edge paints on the market!
1. Angelus Leather Paint Set (Best Most Versatile Acrylic Edge Paint Set)
The Angelus brand is a well-known and well respected paint brand. The Angelus Leather Paint is a leather acrylic paint and not necessarily a specialized edge paint but you're going to be amazed with the quality of edges you're going to be achieving with this paint.
The Angelus comes in a variety of colors – White, Black, Brown, Green, Turquoise, Blue, Purple, Lilac, Pink, Yellow, Orange, and Red. What's great about the range of colors it provides is that their colors reflects current color trends most crafters work with.
As mentioned above, the Angelus acrylic paints are NOT designed for leather edges per say but are one of the best formulated leather acrylic paints in the world.
The Angelus paint is non-toxic and when applied on leather, it's very flexible so it won't crack, peel, fade, or rub off – making it one of the best and most suitable leather edge paints. It's a water-based paint and can be used for painting or repainting sneakers, bags and other leather goods, retouching or touching up leather or customizing parts of leather goods such as watch straps, belts, bags edges, etc. Like all acrylic colors, the Angelus leather acrylic paints can be mix to get other colors.
Applying the Angelus edge paint is super easy. You will only need to prepare the leather edges with a deglazer, build up 2-3 thin coats or layers of Angelus paint over the edge of the leather, and finish off by placing an acrylic protective layer finisher.
If you're interested in the Angelus Leather Paint Set, you can check it out over here on Amazon! You can also check out their range of single paints, deglazers, finishers, and applicators here on Amazon!
2. Giardini Leather Edge Paint (Best Branded)
The House of Giardini is an Italian based company that has been working in the leather finishing industry for over three decades with a focus on high quality. With their super high standards for quality, the brand sees to the continues improvement of their products to suit the needs of all leather crafters.
Giardini offers two varieties of leather edge base coats that is the dense and semi-dense base coats and an array of edge paint products – matte effect, glossy effect, extra-matte effect, glitter effect, flow effect, metal effect, etc.
The Giardini brand is extremely confident with the quality it offers so much so that it has a policy which allows potential customers to first try out their paints before deciding to make a purchase. You can request for a trial pack here to see how well their paint suits your needs.
What's special about the Giardini brand is not only the high quality leather edge paints they offer but the unmatched excellent before and after sales services they offer.
How do You Apply the Giardini Leather Edge Paint
Giardini basically has two application solutions targeted at catering for the needs of both the industries/professional leather producers and small scale leather crafters & hobbyists.
The first type of application entails using their base coat and their basic edge paint. This will generally be the basic solution for most leather crafters and hobbyists.
The second type of Giardini application you could use is using their base coat and adding a dense or semi dense edge paint. Unlike the first type of application, this is the most professional solution which requires the least number of layer applications but results high consistency on your thicker leather edges.
Here's a video on how to use the Giardini range of edge finishes
If you're interested in the Giardini range of edge base coats, paints, and top coats, you can check it out over here on their official website for more information about pricing, shipping, and promotional offers.
3. Fiebing's Edge Kote (Best All-Round Leather Edge Paint)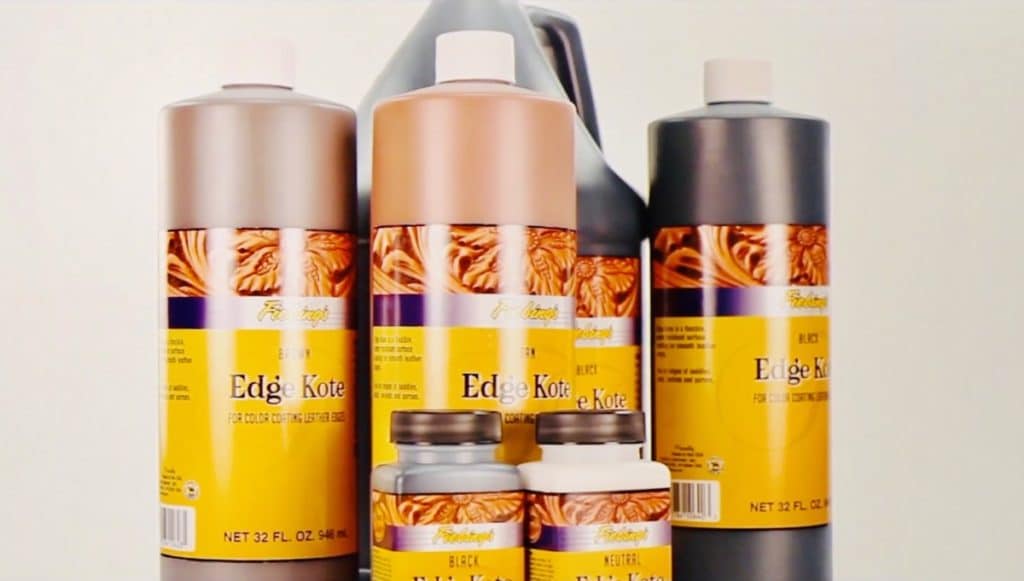 The House of Fiebing's is one of the most respected and well-known brands in terms of leather care and leather finishing. Fiebing's is by far one of the market standards when it comes to dyes and finishes and their products are very easy to find.
Fiebing's Leather Edge kote is specially formulated for the edges of natural leather to mainly render the leather edges super flexible and water-resistant due to its rubberize texture that gives the edges a nice finish. You can also use this product to fix or repair any cracks you might have on your bags, shoes, etc.
The range of colors Fiebing's provide with their paints has expanded over the years and now you're likely to find earth tone colors that goes well with all natural leather edges.
The only downside to the Fiebing's Edge kote is that while it has expanded its range of colors and you're likely to find your preferred color choices for your natural leather edges, it's still limited and doesn't really reflect current color trends.
How the Fiebing's leather edge paint is applied is so easy and very beginner friendly, but will result in a nice professional edge finish for your works.
To use, you will first need to prepare the edges or the surface you intend to apply the paint on with the Fiebing's Gum Tragacanth. Now simply load an applicator or edge paint roller and apply on the edges or wherever you're applying it to and wait for it to dry out. You can apply about 2-3 coats and you're all set!
How to Apply the Fiebing's Edge Kote
If you're interested in the Fiebing's leather edge kote, you can check it out over here on Amazon!
4. Vernis Leather Edge Paint (Best Heatable Edge Paint)
The House of Vernis Edge Paint is a French based company that produces high quality leather edge paints. They make beautiful matte edge paints that generally has thicker viscosity that adheres uniformly and requires less paint layer applications.
The unique quality of the Vernis edge paint is it dries quickly and creates the most beautiful high end matte finish. You can as well achieve a nice glossy finish by adding beeswax or paraffin.
Another unique feature is that the Vernis edge paint sits very easily into the pores of leather because it's made for very thin layer applications and will even give you a much better and deeper paint penetration, coverage, and sealing when heat from an electric creaser is applied.
How to Apply the Vernis Leather Edge Paint
Here's a few steps to show you the best way to apply this paint:
Step 1: Roughen the leather edges or leather surface you intend to apply the paint slightly with 200-400 grit sandpaper. Ensure you make few quick passes in same direction.
Step 2: Apply edge paint with an edge applicator tool.
Step 3: Allow to dry for 10-15minutes.
Step 4: Sand with 400-600 grit sandpaper to smoothen it out or alternatively, you can use a electric creasing machine to assist in smoothing the edge paint in-between each application.
Step 5: Repeat steps 2-4 until you're satisfied with the results. It may usually take about 2-3 layers for the best results.
Step 6: Optional! If you do not want it's original matte finish, you can apply beeswax or parraffin wax for a glossy finish and buff with a soft clean cloth.
If you're interested in the Vernis Leather Edge Paint, you can find it over here on the Rocky Mountain Leather Supply website.
General Tips For Applying Leather Edge Paints
1. Let the application process recommend on the product you get be your starting point. The most important tip I would give you is that each brand of leather edge paint has its own unique application process and best practices. Follow the peculiar instructions that comes with the product you get.
2. You will eventually figure out a combination of application processes that will really work for you given the type of leather you often use, paint drying time based on your environment, so on and so forth. So you would want to explore further beyond the application process recommended by the brand of leather edge paint you buy!
3. Before starting out your edge painting always ensure the edges you're going to be painting is prepared.
4. The most basic edge preparation you would want to do first on your leather before applying leather edge paint is to ensure a straight edge and the that all leather layers you have glued or sewn together are properly lined up. You can do this by using a sanding machine to sand down the edges or trimming off the edges.
5. Another leather edge preparation you can do especially for all types of leather if edges are well aligned is hand-sanding slightly in one direction.
6. Another simple edge preparations you can do to your edges before applying your edge paint is to use a heated electric creaser or any other thing similar to warm up the edges a bit to get all the loose leather edge fibers and frays evened out nicely.
Using the electric creaser or heat on the edges first warms up the edges and opens up the fibers of the leather for paints to penetrate.
7. When it comes the applicators to use for your leather edge paints, there are a variety of things you can use such as cotton dabbers, awls, Edge paint rollers, etc. Just explore to see what works best for you.
8. If you use the leather edge paint roller, always clean it thoroughly while the tool is still wet with the edge paint.
9. If you happen to have paint spills on unwanted parts of the leather article, you can use crepe rubber (mostly used for shoes) to clean off the unwanted paint spills.